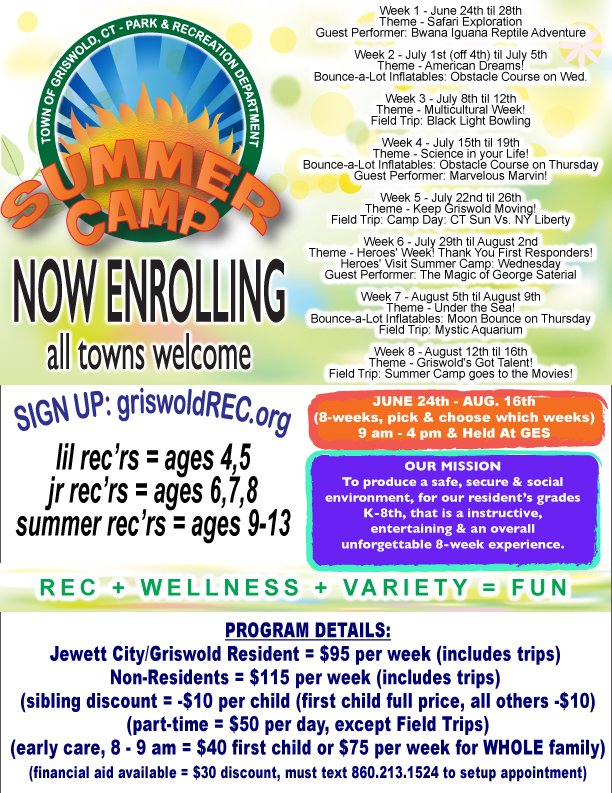 WEEKLY THEMES

Week 1 - June 24th til 28th
Theme - Safari Exploration
Guest Performer: Friday, June 28th - Bwana Iguana Reptile Adventure


Week 2 - July 1st (off 4th) til July 5th
Theme - American Dreams!
Bounce-a-Lot Inflatables: Obstacle Course on Wednesday, July 3rd


Week 3 - July 8th til 12th
Theme - Multicultural Week!
Field Trip: Friday, July 12th, Black Light Bowling
Week 4 - July 15th til 19th
Theme - Science in your Life!
Bounce-a-Lot Inflatables: Obstacle Course on Thursday, July 18th

Guest Performer: Friday, July 19 - Marvelous Marvin!


Week 5 - July 22nd til 26th
Theme - Keep Griswold Moving!
Field Trip: Wednesday, July 24th, Camp Day: CT Sun Vs. NY Liberty


Week 6 - July 29th til August 2nd
Theme - Heroes' Week! Thank You First Responders!
Heroes' Visit Summer Camp: Wednesday, July 31 at Noon
Guest Performer: Friday, August 2nd, The Magic of George Saterial

Week 7 - August 5th til August 9th
Theme - Under the Sea!
Bounce-a-Lot Inflatables: Moon Bounce on Thursday, August 8th
Field Trip: Friday, August 9th - Mystic Aquarium


Week 8 - August 12th til 16th
Theme - Griswold's Got Talent!
Talent Show: Friday around 1 pm
Field Trip: Thursday, August 15th, Summer Camp goes to the Movies!
SPECIAL WEEKLY GUEST INSTRUCTOR ACTIVITIES:
Hoopin', 4-H, STEM, Girl Scouts, ZUMBA, Book Talk, Yoga, Pound, Clay/Yarn, Art, Leadership & MORE!
PLUS OUR STAFF LEAD PROGRAMMING: Crafts, Wellness, Art, Sport & Enrichment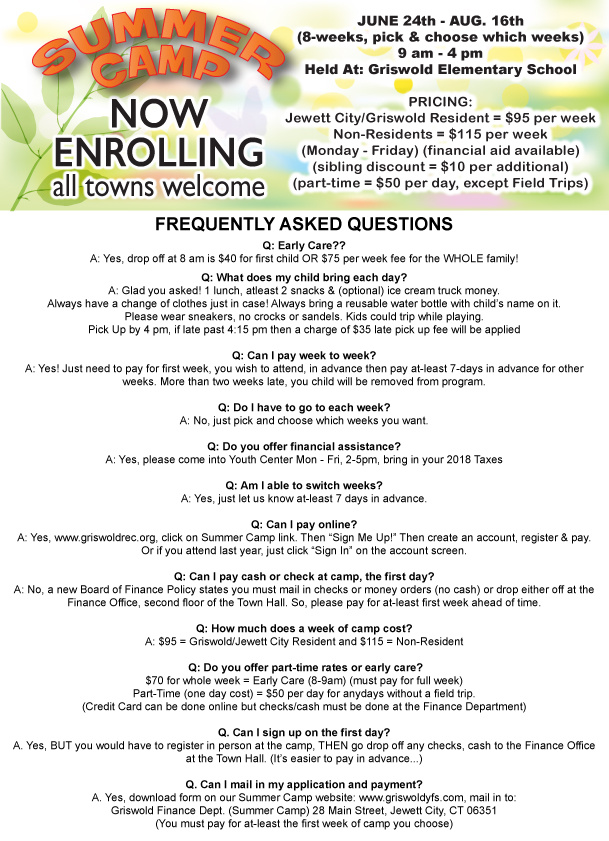 NEED FINANCIAL ASSISTANCE?