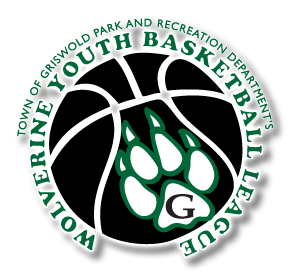 Everyone Plays
Everyone Learns
Everyone Has Fun!
Grades K thru 8th
Boys & Girls Welcome & All Town's Welcome

Practice / Games on Same Day! No Running Around!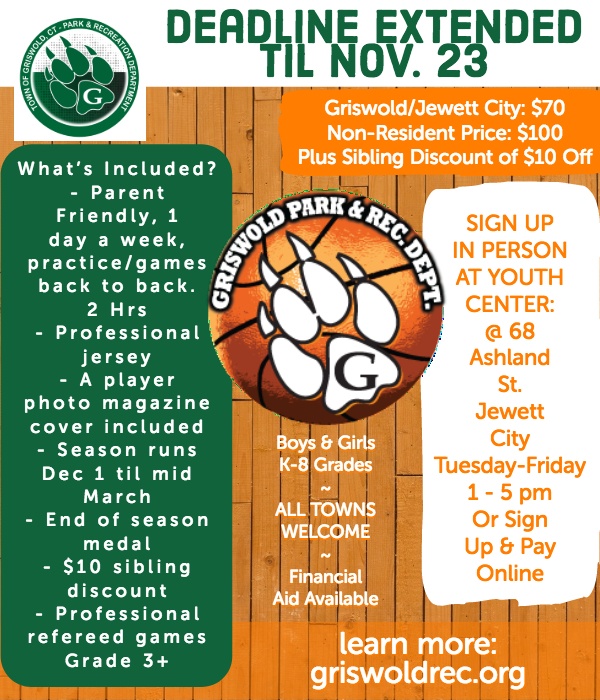 FEES:
$70 for Residents of Jewett City / Griswold
$100 for Non-Residents
WHAT DO I GET FOR WITH THAT FEE?
- 1 day a week, practice/games back to back.
- professional jersey included
- a player photo magazine cover included
- Season runs Dec 1 til mid March
- end of season medal
- $10 sibling discount
- professionally refereed games Grade 3+
HOW ARE TEAMS PICKED?
All Players participate in a Player's Clinic where Coaches scout and create fair teams.
We do the best we can to make sure all kids have a great time!
WHAT IS RECREATIONAL BASKETBALL?
Kids play it for fun. They will learn and interact. All levels are able to play. All players will get equal playing time or we will do our best do make it work with uneven rosters.

WHEN ARE THE PRACTICE / GAME TIMES?
DRAFT SCHEDULE - NOT FINAL - WILL BE CHANGED - TEAMS ROTATE BETWEEN HOUR BLOCKS
ONE HOUR PRACTICE TIME & ONE HOUR GAME TIMES


PLEASE REMEMBER THAT THIS IS A DRAFT THAT WILL BE CHANGED BASED ON ENROLLMENT.

WE WANTED TO GIVE YOU AN IDEA OF WHAT TO EXPECT FOR THE SEASON SCHEDULE.

OPTIONS:
A) Sponsor One Team = $100 (may be a co-sponsor)
B) Sponsor One Team as Only Sponsor = $150
C) Sponsor Two Teams as Only Sponsor = $250
All sponsors are recognized through all promotions related to the league. All sponsors will also receive a team plaque to display in their office. Sponsors fees are used to fund financial aid opportunities and keep cost low for all participants.
Want to Sponsor, Let Us Know Below
1) What is your Business Name,
2) Certain team or players you wish to sponsor
3) Which Sponsor Option.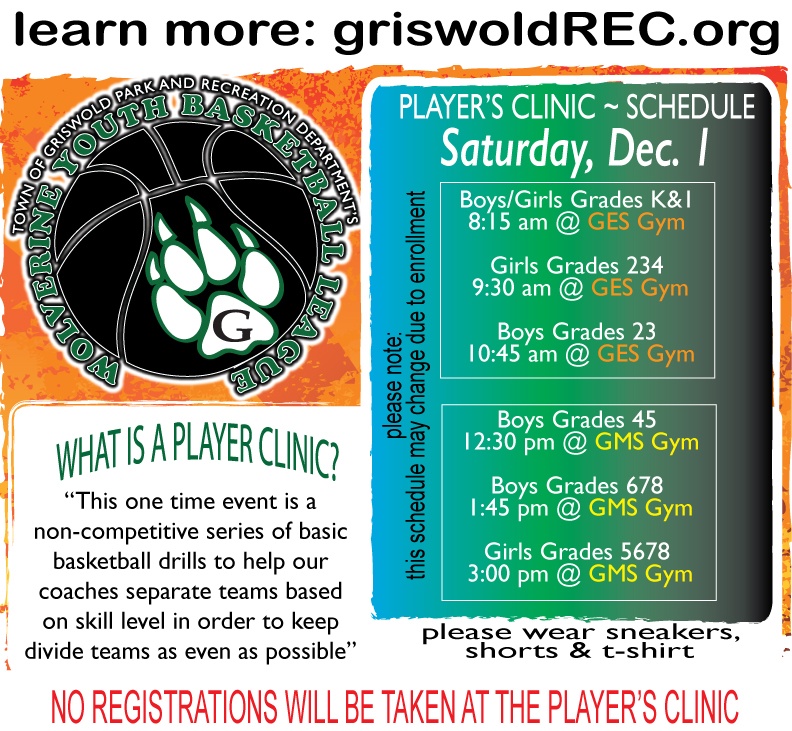 (after clinic, teams will be assigned and coaches will call you with your team info, practices start early December, games start mid-late December until March 17th)